Animal Rescue Foundation (ARF) of Bartlesville was started by two individuals who were rescuing abandoned animals in our community. They wanted to make a difference in the lives of animals by taking care of them until new homes could be found. Others soon wanted to help and our membership has grown!
ARF had a dream of building a rescue/adoption sanctuary for abandoned animals which has come true! Those who are never adopted can live out a happy life with others of their own kind with food, water, shelter and love. This dream has become reality with our new facility residing on 18 acres east of Bartlesville. ARF exists by donations from the public and private foundations. We do not receive assistance from the City, State or Federal Government. ARF is staffed mosty by volunteers.
ARF has been instrumental in bringing low cost spay/neuter opportunities to Bartlesville thanks to Drs. Brady & Jana Robbins, of ARK Veterinary Clinic in Claremore, OK. Prices range from $45 to $70 and include a rabies vaccination. Call for details or see Events for scheduled upcoming clinics.
---

How is ARF different from the WCSPCA?
This is our most popular question! ARF is an animal rescue organization helping rescued and abandoned pets in need. Some of our rescues are available for adopton. Other rescues are not considered to be adoptable due to "special needs". Examples of "special needs" are those with physical disabiliies, birth defects, diseased or old age. ARF's rescues will always have a sanctuary at ARF where they never have to fear being abandoned and alone again. They can live out their lives being loved and cared for by volunteers.
The Washington County SPCA (WCSPCA) is an animal shelter. The have a contract with the city of Bartlesville to take lost/abandoned pets into the city impound facility for 5 days. After 5 days, they are evaluated to determine whether they should be moved into the adoption area of their facility or be transferred to a rescue in other parts of the country where they have mandatory spay/neuter laws.
---
Where is ARF located?
ARF's rescue/adoption facility is located at 399519 US 60 east of Bartlesville. We are located 2 1/2 miles east of Hwy 75 (1/2 mile east of Bison Rd) on the south side of Hwy 60 - the first driveway on the south just after the highway changes to two lanes, which is adjacent to ARF Park (you can't miss 5 acres of fence!).
We are open Monday through Saturdays from 1:00pm - 4:00pm, or by appointment if someone would like to meet an animal considering adoption. We encourage you to stop by for a visit, learn about what we do and how you might be able to help us help those that are in need of our help. Volunteers are welcome! We have a volunteer application available!
Our current facility only houses free-roaming cats/kittens - they are not caged. As of April of 2017, construction is underway to allow us to accommodate dogs as well as cats. Our rescue dogs are currently kept in foster homes which are very limited currently.
---
ARF Stats
As a member of Best Friends' No More Homeless Pets (NMHP) program, we also participate in the Shelter Animals Count which is a national data base that collects data from rescue organizations and shelters across the United States. The numbers in the graphic below represent our annual numbers. In 2018, our dog adoption area will be complete and we can begin taking in dog rescues that are fully vetted with available medical history. (We will be unable to take in strays until we have raised funds to construct an additional isolation building to avoid the risk of spreading sickness, parasites or disease into our adoption area.)
Below find the 2017 stats for ARF's animal counts. As a rescue opposed to a shelter, our numbers are low but do reflect we are a rescue/adoption sanctuary whereby those who are never adopted live out the remainder of their lives in a caring and safe environment. Some of our rescues have lived the remainder of their lives at ARF and some have passed away due to illness. Our rescues are never euthanized unless that it the only humane solution to avoid pain and suffering for the animal based on veterinarian opinions and recommendations.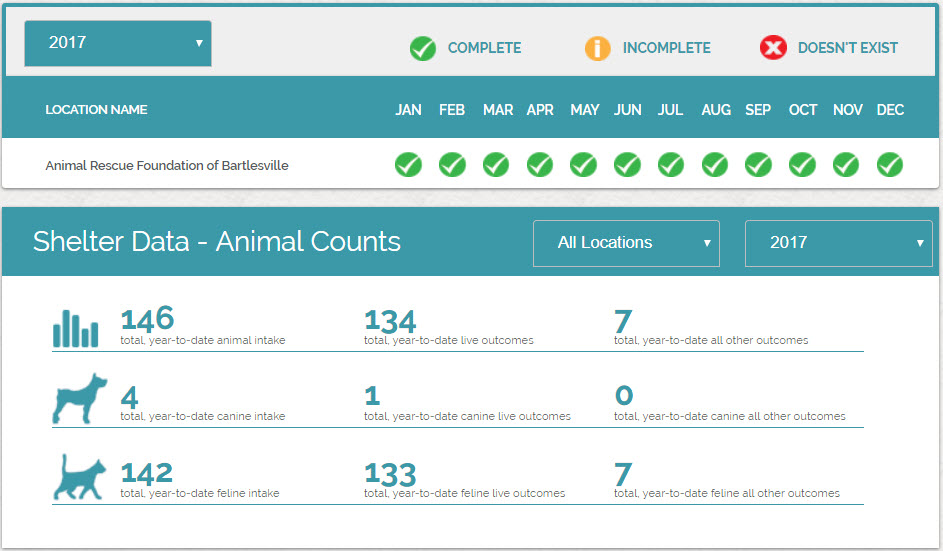 Back to top